SKI SHOP Montchavin
Ski hire Montchavin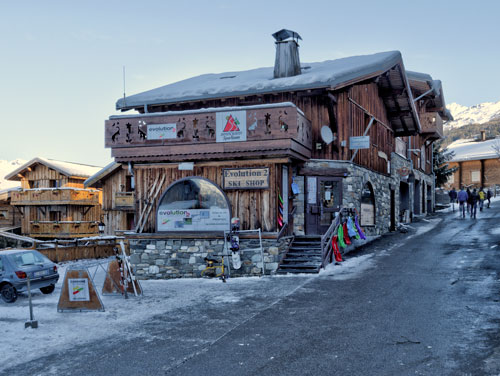 Horaires d'ouverture
From monday to friday: 8h45 – 12h00 et 14h – 19h
Saturday & Sunday: 8h30 – 19h
FOR SALE
Skis Freeride, Freestyle, Back Country, All Mountain and ski boots
Telemark: skis, boots and bindings
Randonnée: skis, boots and bindings
Off-piste equipment: Sac ABS, avalanche transceivers , probes, shovels , powder ribbons…
Snowshoes
Accessories: Gloves, glasses, goggles, helmets, socks, etc.
Protections: back, buttocks, knees, wrists
Brands
Evoc, Julbo, Loubsol, Bollé, Barts, Uvex,Frendo, etc.
Montchavin skis: Equipments | Services | Workshop
OUR SKI EQUIPMENT
The Montchavin SporTeam shops have been specialists in hiring equipment for over 30 years. We are here to welcome and advise you, with over 800 pairs of skis and over 100 snowboards, touring equipment, and a telemark park, with skis and boots in all sizes.
At the beginning of each winter, we introduce new equipment to our park to ensure your comfort.
EXCLUSIVE: This winter, come and test or hire, the new Icelantic skis, aswell as the new Majesty skis.
OUR SERVICES SKI & SNOWBOARD
To make life easier
Take advantage of our free ski-lockers in each shop, aswell as at Evolution 2 Ski Shop, for a small fee, personal heated cupboards.
If your residence is further out from the village:
We will deliver the equipment you have chosen in our shops for free.
Thanks to our partnership with the Evolution 2 Ski and Adventure School, you can reserve your ski lessons at the Evolution 2 Ski Shop, or directly on the site www.evolution2.com
If you are looking at buying skis, put yourself to the test with an Evolution 2 instructor, to ensure you are buying the right pair for you.
We are always thinking of your safety, which is why all our ski shops are fitted with Skimeter machines, to ensure your bindings are set to the correct AFNOR standard.
"Ensuring your safe enjoyment"
EQUIPMENT WORKSHOP SKI & SNOWBOARD
Equipment workshop
Our 3 Ski Shop are all equiped with high-performance machines, for the repair and servicing of your/ our equipment.
After each hire, all our Skis, Snowboards and Telemark skis are checked, sharpened and waxed, and the boots dried and disinfected.
For the upkeep and repair of your personal equipment, entrust the know-how of our experienced SkiTechs, with a number of different service packages at your disposal.
BOOT FITTING WORKSHOP
The best solutions for your feet !
We can provide you with expert know-how, to alter the shell and/ or the liner of your skiboots. We also propose a range of different footbeds, technical ski socks, and heated footbeds.
New this winter: SKI BOOTS & SOCKS WITH INTEGRATED HEATERS